We believe that there is no greater arena for children to learn and grow than through the arts. Creation Station Studio City strives to offer stimulating and challenging enrichment classes for children of all ages. Movement and dance can play an important role in the development of young children. The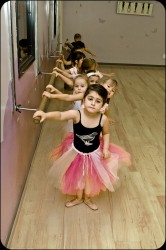 early childhood years represent a time of rapid growth and change as children become aware of their own bodies and what they can do with them. Between the ages of 18 months and 4 years dance is less about skill and more about experiencing and appreciating movement as a whole. Young childhood is not a time to limit the movement experience or to achieve perfect dance skills, this age level should be about focusing on the achievement or coordination and fluidity. Aside from the numerous physical benefits of learning dance at an early age there are tremendous social advantages, our dance classes provide an inspiring environment in which kids can develop self-confidence, self-esteem and social skills.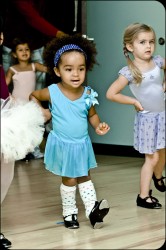 It is our mission at Creation Station Studio City to instill a strong dance foundation at whatever age they begin their journey. We hope that all of our dancers will gain confidence, independence, poise and grace from our classes. It is unreasonable to expect our younger dancers to master the the materials presented to them in class, children at this age do not yet have the capacity within their bodies, nor the coordination or attention span to learn to be a prima ballerina or expert tap dancer. It is reasonable to expect that through
the introduction of dance steps, learning dance vocabulary, and watching a professional dance instructor demonstrate, your child will learn the fundamentals of dance, build a strong foundation, develop their fine and gross motor skills, learn body awareness and gain coordination and flexibility. Your dancer will also gain socialization skills and cooperative learning skills that will assist them in becoming a well-adjusted learner far beyond the dance classroom. We aspire to be a positive and loving learning environment that gives the space for young dancer's to develop skill, make friends, gain confidence and become fantastic young people!
How young can we start?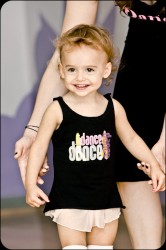 I suggest that you do not begin a class until they are solid walkers, usually around 18 months.
Are we too late to start?
Many dancers do not start until they are well into their teens.
How intensive should the program be?
Before the age of 6, the program should stress the importance of creative movement – more fun than form. After the age of six, children are more ready to handle a structured and more technical style dance class. If they have chosen dance to be their "sport", you might want to have them taking multiple styles of dance per week, i.e. ballet, jazz and tap.
Can boys do this too?
All children love to move and can benefit from a dance class, there are no gender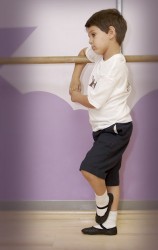 restrictions in dance! Many a football player found grace on the field through a ballet class.
What style of dance is best for my child?
I believe that you have to learn to walk before you can run, therefore, ballet is the best place to start. Once there is a strong foundation in ballet the sky is the limit as far as styles go – check out Latin, Ballroom, World, Modern or anything in between.
What are the goals in dance for children?
First and foremost, classes for children should teach a love and appreciation for movement. Dance also teaches strength, coordination, flexibility, patience, grace and commitment. These characteristics will be carried throughout a lifetime and utilized in all aspects of a child's future.